'And all at once summer collapsed into fall'
Oscar Wilde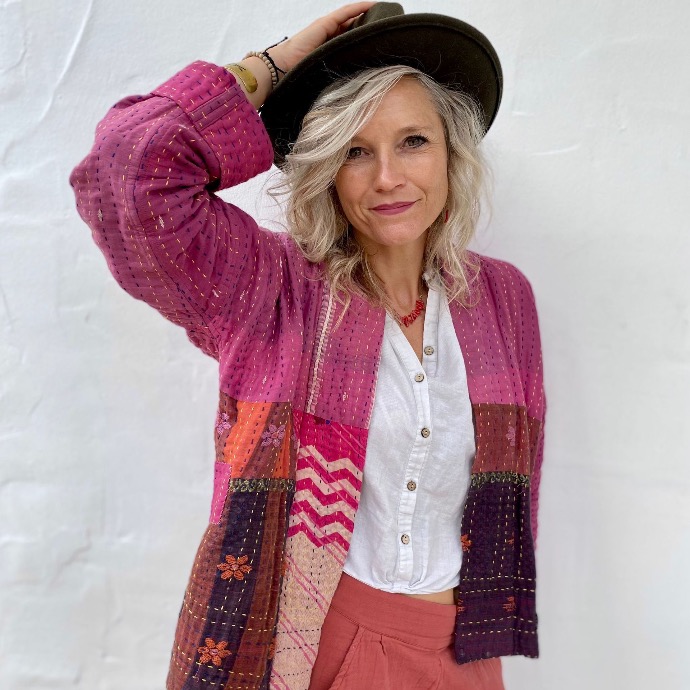 We invited our friend Dorien Daems - Antwerp Based Freelance Stylist with more than 22 years of experience - to reflect about cosy Indian Summer gatherings. Because, even for a small bunch of people, the ritual of setting the table to enjoy lovely late summer dishes upon, is something she can take great joy in creating. Find out more about Dorien and about Dorien's world on her Instagram profiles @daemsdorien en @caslimonero!
Dorien X Tales by Solid - brand
"I am infinitely proud of this Belgian non-profit company in fashion and homeware run by a group of women with a sustainable vision and a healthy dose of ambition who make the lives of other women, including their families, better."
"I absolutely love styling with Tales by Solid items and try to integrate them into my assignments whenever possible! The story, design, colours, materials... the picture is right with Tales by Solid and also my customers are excited about the brand and its sustainable and fair purpose!"

'Some say life isn't fair, but we think it should be'
Solid
Indian Summer is about keeping the summer feeling as long as possible and seizing every opportunity to do so. Setting long tables, creating a warm atmosphere with a touch of nostalgia for friends & family, no better feeling than that! And the good news is there are no rules when creating a table. It's all about personal taste, the specific occasion and the atmosphere you want to create. 
For now, let's prep a cosy and organic Indian Summer table setting with 5 tips Dorien Daems tries to infuse her tables with:
     1. Nature
Set your Indian Summer table in nature under the most beautiful ceiling: in the garden, on the beach, in the woods... Any location outside can become the ideal party venue with a mix of different tables and chairs, materials and nonchalant linen tablecloths, napkins and Tales by Solid placemats. A warm colour palette for a Bohemian atmosphere. Finish off with lamps or lanterns as the ultimate mood enhancer. And definitely candles for a magical atmosphere. A beautiful Tales by Solid * Hadithi basket filled with late summer flowers or a simple vase of fresh cut greens directly brings nature to the table. A crackling fire and a feel good acoustic playlist accompany this idyllic scene. 
    2. Make the guest feel comfortable
Present each place setting with everything your guest would need to feel comfortable. And also including something personal that may be particular to them or to the event itself. This might be a little bundle of holiday greens with their names on that they can take home or it might be a Tales by Solid pillow or a Tales by Solid plaid or blanket behind their backs to create extra comfort or warmth during the night.
    3. Privacy is key
Create a cosy corner where your guests can retreat for a good conversation. Just two simple beach chairs or if you want to make it really cosy, you can put a large Tales by Solid plaid on the floor and fill it with lots of cushions from Tales by Solid. Put a Tales by Solid rug around it and you immediately have a cosy place for an intimate in-depth chat.