Evyïnit is a label that has been founded by German-based Ewelina Smarz. In 2011, she was desperately looking for a loop-scarf which featured a combination of decisive colour and superior quality. The lack of Accessory Fashion available motivated Ewelina so much to create her own sample, which she had knitted by her mum.
After being stopped several times on the streets of Frankfurt and asked about her individual creation, she decided to start her own label in early 2012. Based on intuition and passion for individual and contemporary knitwear designs she made her first sample. In 2012, the first Autumn/Winter Collection was set at selected retailers and has since reached further well-known retailers. Throughout the years the range of knitwear available through Evyïnit has grown significantly!
Ewelina loves clean and minimalistic items with a Scandinavian twist. There is no doubt about it, she's got it! And on top of that she totally embodies our vision and values, so we would love to introduce her to you!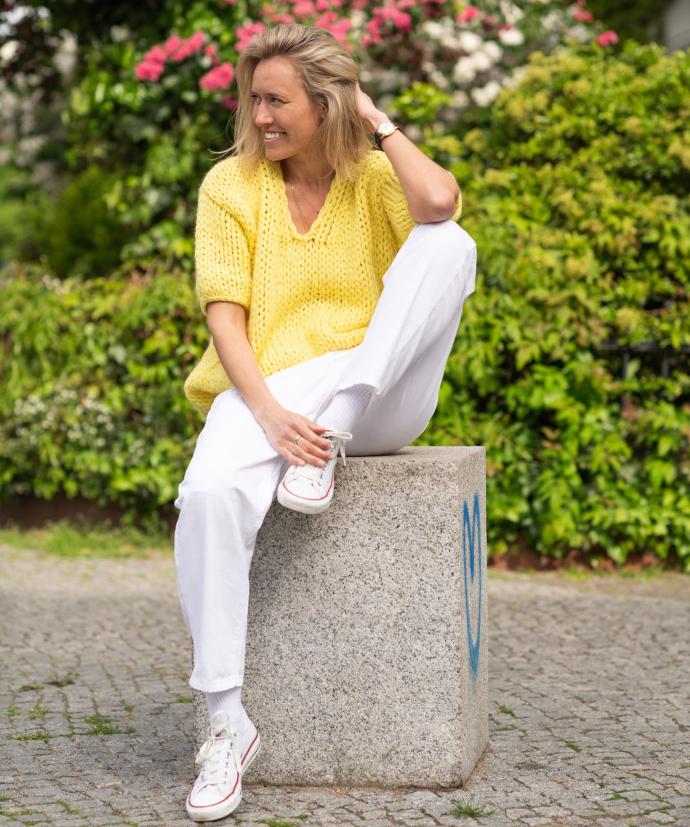 'Being interested in yarn automatically means being interested in sustainability.'
Could you tell us more about your brand, and your vision and purpose?
We are a family-run business producing handmade knits mainly knitted in Germany and Poland, and now also Peru. We have been on the market for 10 years already and delivered customers all over the world with our pieces. 
Evyïnit stands for high quality accessories, focusing on style and design. Therefore, each product is hand-knitted. Evyïnit ensures a high level of comfort by using exclusively superior quality wool. The clean and minimalist lines of Evyïnit's designs, and the soft, open mesh knit creates a feeling of warmth and lightness in everyday urban life. With contemporary design and a high degree of individuality, Evyïnit`s unique collection sets itself apart from the ubiquitous designs in this special segment.
 What is it like working with the artisans of Solid and getting to witness the impact that a more than just business model can have on communities around the globe?
It's a very good thing to experience which I am also very happy about. It's good to work with experienced people in fair fashion whom I can rely on. For me there is no other way to run a business!
 When did you first become interested in sustainability?
Being interested in yarn automatically means being interested in sustainability. Yarn is a natural fabric and the production of fashion affects people and the planet. Therefore I have been interested in it since the very beginning of my brand. But since fast fashion has such a negative connotation, I became even more deeply convinced of slow fashion as the only way to go.
 What is the best piece of advice you've ever received?
Just get stuff done. Now is the time. It doesn't have to be perfect to start.
 What are your thoughts on today's fashion cycle?
So happy to see we are going back to slow fashion and that more and more people are behaving more conscious and make more sustainable decisions based on their insights. The rise of vintage is a beautiful example of this evolution in fashion. It doesn't have to be new to be precious, let's say.
 What's the biggest barrier you've found to succeeding as a socially conscious business?
There are no barriers. Barriers are creations of the human mind. Everything is possible, only the sky is the limit.
 And now for some fun stuff. If you weren't a designer, what would you be?
I wouldn't like to be anything else but if I would have to I would be a department store owner.
 What are some things you do for fun?
I visit a lot of flea markets or do trend research in my free time. Travelling as much as I can is also on my list. And I love taking baths. Being in the hot water makes my mind peaceful and creative.
 What is your most favourite thing to wear?
Jeans and a white t-shirt with sneakers. Simplicity does it.
 How can we help contribute to better ways of running a business? What kind of impact can we make ourselves?
Buy less, support local brands, think twice before buying, buy vintage, resell and make somebody else happy!
 What's the next step for you and Evyïnit?
We are having different exhibitions by the end of the year in Germany. In a few weeks I'm heading to the production workshop in Ayacucho, Peru, where all of my customised knits are made by the skilled hands of Solid's knitting moms. I'm looking forward to meeting them! New York is also on the agenda for some trend research. There are also two fashion fairs I want to attend at the beginning of the year in Paris and Copenhagen. So, a lot of trips and preparations to come the next few months!
 Follow @ewelina.teresa and @evyinit
More info about the brand: https://evyinit.de/