The inspiration
The idea to start a textile workshop in India was born when Lyn, the founder of Solid, learned about the many Indian women that are forced to migrate from poor states like Jharkhand to earn a livelihood. Many of them are promised a job in metropolitan cities or wealthier states, but often end up in forced domestic servitude or even forced marriage and prostitution. Migrating is a difficult decision for these women, but they often have no choice due to a lack of local work opportunities. 
Inspired by the work of Sr. Jeanne Devos, who dedicated her life to protect the rights of domestic workers in India, Solid decided to create honest working opportunities for these women in their own state 'Jharkhand' in the north of India. It is this decision that marks the birth of PACES Crafts: A fair trade textile workshop that aims to empower the tribal women in the rural areas around the city of Ranchi. Solid does not believe in charity, but in giving people a fair chance to empower themselves and their communities. And that is exactly what P.A.C.E.S. stands for: Production of Artisanal Crafts for Empowerment of Society.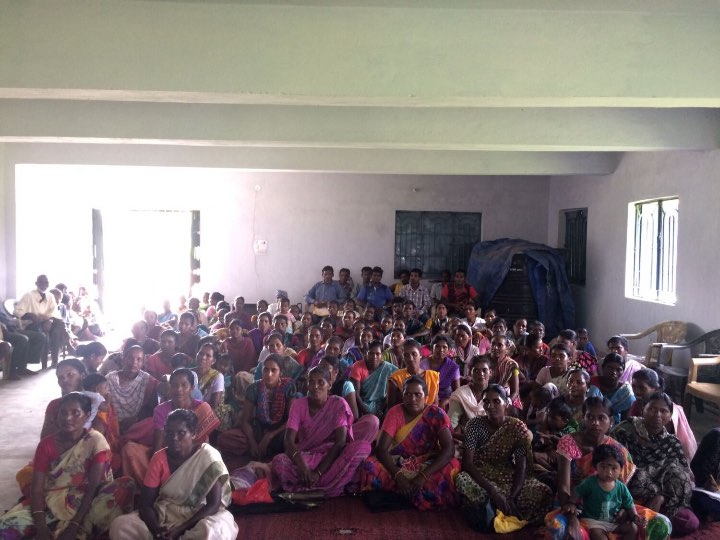 Company Foundation - 2015
In September 2015 Solid sends the Belgian textile expert Indra Cox to Ranchi to lay the foundations of the new company. Except for the network of the Jaan Foundation [1], she starts there from scratch. In the beginning the office and sample unit is set up in Indra's 3-bedroom apartment in Ranchi. So much work has been done from that tiny office: mapping out local skills, sourcing raw materials, building a local network, registering the company, hiring our first employees, developing our first products, figuring out import and export regulations, and so on. Starting a company can be challenging, but India…. India exceeded our wildest imagination. It is known as the land of extremes and that is exactly how we experienced it. It is not only the land of the most beautiful textile traditions, the greatest hospitality and richest cultural beauty. Unfortunately, it is also the country of extreme inequality, corruption, and nerve-racking bureaucracy. We've been struck with complete astonishment so many times and every time we thought we had seen it all, some new unimaginable scenario would surprise us. But with our purpose and mission as our fuel and a growing team of inspired people, we kept on going and made our dream come true.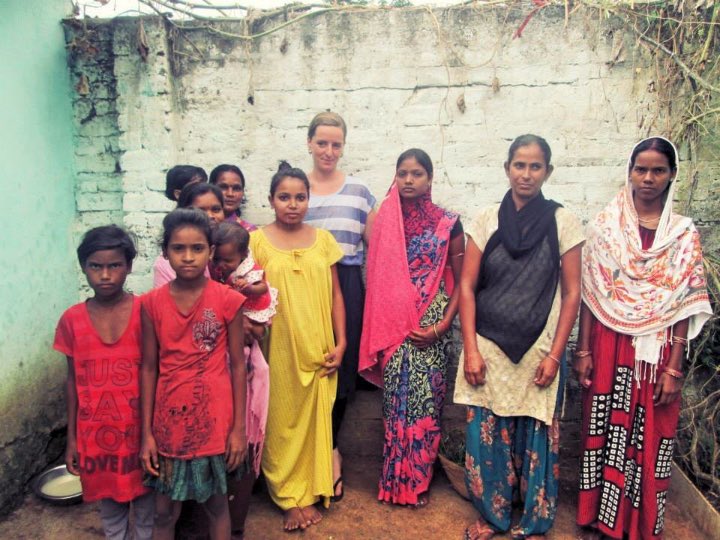 It's getting real - 2016
The first year Valerie, Solid's Belgian weaving expert and designer, works closely with Indra and the local master weavers in India. Together they translate the local craftmanship to the demands of the European customers and develop new handloom- and knitwear-products. Soon the small company no longer fits in the tiny appartement and moves to a proper building in Rampur, just outside the city of Ranchi, where the first trainings are launched. With only 6 handlooms available we decide to train 7 women to become weavers and to train 13 women to become knitters. Knitting is not a very popular craft in the area, but because of our good relationship with a local knitting workshop and our experience with knitwear in Peru, we decide to go for it. None of our artisans were experienced textile production and starting from scratch turns out to be much more difficult than expected. But with the help of the local village head, we gather a group of motivated and talented women that is determined to make it work. The learning takes time, but with a lot of perseverance and patience their skills improve, and the confidence grows.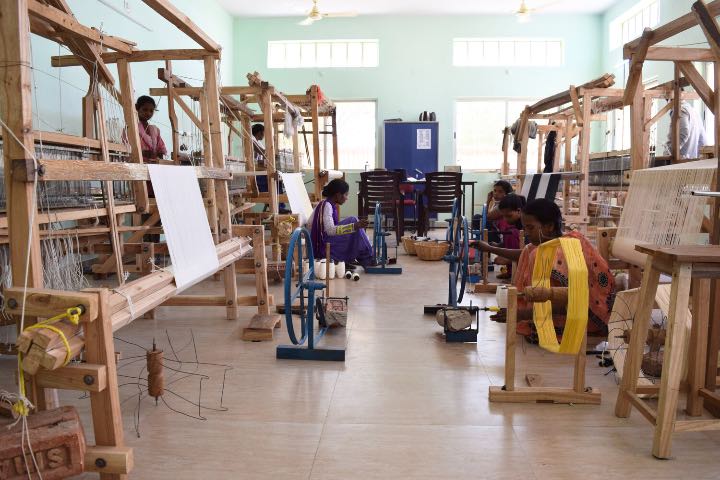 The Paces family is growing - 2017
In 2017 we get our first real orders in for both weaving and knitting & a second group of knitters is being trained. 3 knitters from the first group are promoted to become teachers, which made some colleagues jealous and disrupts the team-spirit. Most of our artisans have no experience with working in a company and feel uncomfortable in this new structure. While working on the issue, we bump into many more internal cultural challenges. And it is only then that we start to realize how different these tribal women see the world. We gain a lot of insight in our cultural differences, and we manage to make everyone realize the importance of working together instead of against each other, a value of their culture too. We start to call ourselves the PACES Crafts family, and soon the tensions and competition disappear.  
In the same year our first volunteer, Veerle, joins the team for some months. The artisans are surprised to find out that a white woman from Europe comes to work for free for so long in their company. They developed a strong bond, and the goodbye party becomes very emotional. The artisans start to experience the sisterhood amongst them that is growing and start to understand the importance of the community we are building.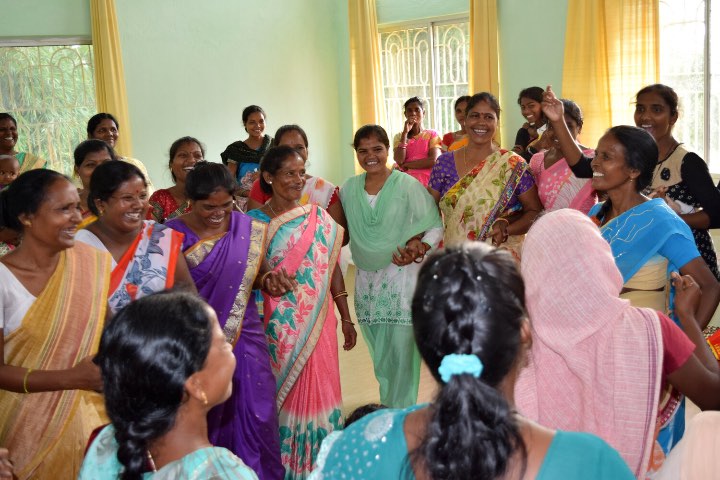 Patience is a virtue - 2018
Despite the team spirit growing, the company still faces many challenges. Continuous difficulties in the supply chain, bureaucratic delays and intercultural challenges are taking a lot of our time and energy. We realize we'll have to scale and redesign our company if we want to become financially self-sustainable. With the support of a successful crowd funding campaign, we start gearing up for expansion. And so, we start the quest for finding a bigger building, new team members and new raw materials. While we work on improving logistics and preparing our team for all the changes ahead, we develop a new product range made from recycled sari's. These new deco items come out very well and Solid decides to launch its own deco-collection: "Solid, Tales of India". We decide to close our knitting workshop and we retrain our knitters so that can crochet these recycled products. This decision immediately brings much more continuity in our sourcing and production, and it feels like we are heading in the right direction. However, despite all our efforts, most other things keep moving slow. And we end the year a bit discouraged because of the slow progress and all the challenges that are still ahead of us.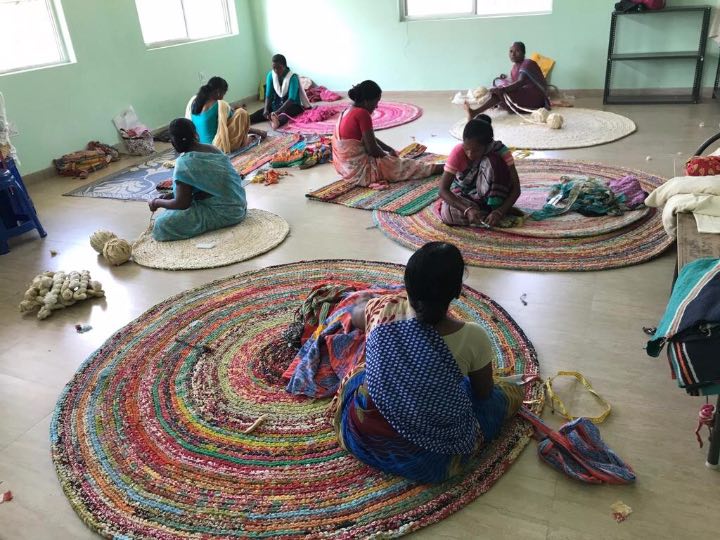 Miracles do happen - 2019
All good things take time they say, and that is especially true in India. But luckily miracles can happen too and that is exactly what we experience in January 2019. While we are in an international meeting, evaluating the unsure future of the project, we suddenly receive an e-mail that a Belgian donor with a textile background is willing to gift us 70 handlooms. 70 handlooms ?!? We can hardly believe it in that moment. But it turns out to be true and from that moment onwards our spinning wheels suddenly seem to get traction. We start working on a new business plan and not so much later we receive a grant from the Business Partnership Facility of the King Boudewijn Foundation[2], that will finance our expansion.  After a year of searching and negotiating, we finally get the confirmation that we can move into a bigger building suitable for our expansion. Encouraged by all these positive events we start setting up our brand-new training unit where we plan to train 70 women in the following year, it looks like our expansion is finally about to happen!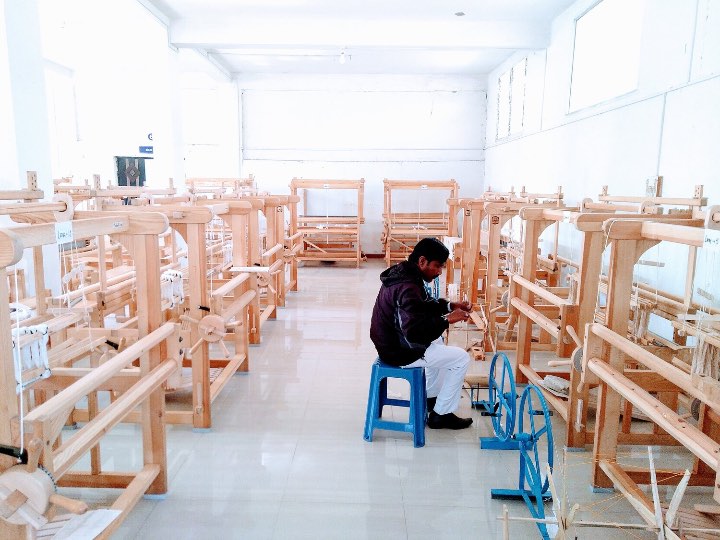 COVID-19 hits and brings a new beginning - 2020
We start 2020, full of enthusiasm, with the training of 36 new weavers. We all looked forward for this moment for so long and it is truly rewarding to see our company grow after all those years of preparations. But in March covid reaches India and the country is going in a sudden nationwide lock down. Paces Crafts must close its workshops and stop the training after only 2 months. The company must reinvent itself once more. Since it's impossible to weave products from home, we start focusing on another craft we had explored: Kantha-embroidery. This is a traditional Indian craft that recycles pre-loved sarees into plaids and bedcovers and is possible to be made with just a set of needles. The production of these products allows our artisans to do some work from home where they stay safe from the virus. When we can finally open our doors again in September, everyone is super exited. It's so good to see each other's cheerful faces again & it's wonderful to see how the senior artisans are bonding with the new trainees and are effortlessly passing on the values of our company to the next generation.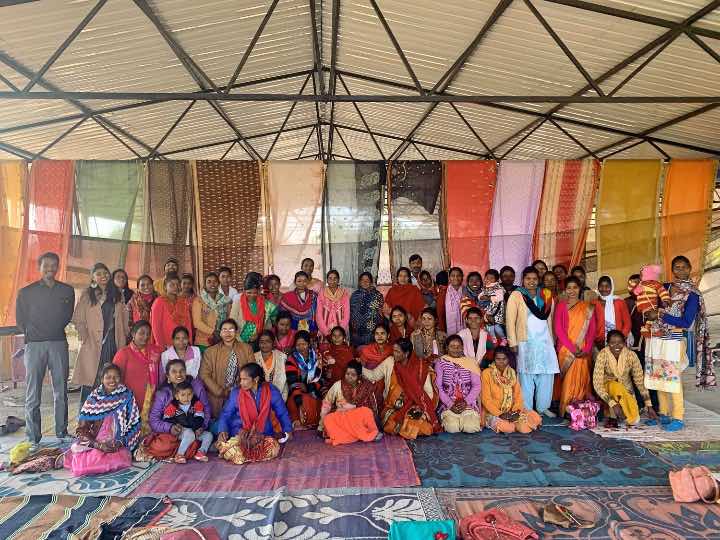 Paces celebrates its 5th birthday - 2021
Unfortunately, our enthusiasm is countered again as another lockdown is imposed upon the state in April 2021. The previous year seems to repeat itself, but this time covid hits harder. The Indian health system is overwhelmed, and a wave of fear paralyses the country. Again, we have to pause the weaving activities and switch to more kantha production which can be produced from the artisans' homes. Luckily the situation is improving by now and we are hopeful that we can reopen soon for another new beginning: By the end of the month, Indra will officially pass on the management to the Indian team.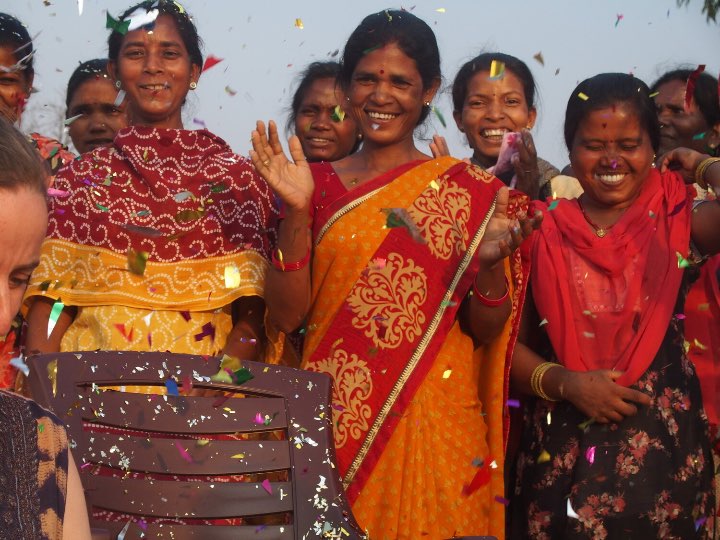 Today, on our 5th official birthday, the company employs 50 skilled artisans that master the crafts of weaving, crocheting, sewing and kantha-embroidery. 6 of these women are now running the workshops and we only have 1 male master weaver to technically support them, which is very uncommon in the area. It is truly rewarding to see our artisans transform into the empowered women that they are becoming. And every time we hear one of their personal stories of empowerment, we are reminded why we keep on going despite all the odds. This 5th birthday is another milestone in our challenging journey in incredible India. When we started this (ad)venture 5 years ago, no one could imagine how crazy it would be. We have known many setbacks, but they all came with wise lessons to learn, and they all contributed to the people and the company we are today. It seems to be that the journey is the destination indeed. And what a wonderful journey it is <3 Happy Birthday Paces Crafts!