Recently, we've received many questions about the current state of affairs regarding the pandemic in India and Peru, and particularly about the vaccination rate in the areas of our Solid projects. So hereby a much anticipated Covid-19 update… 
In the Ayacucho region of Peru, 42.6 % of the 30 plus-year-olds have already received their first vaccine, and 8,2 % their second. This week the age group 20-29 is invited and soon vaccinations are open to all adults. Vaccins used are Sinopharm (Chinese), AstraZeneca and Pfizer.

Even though 40 % of our knitters are above 40 years old, the number of vaccinated knitters remains considerably low. Many knitters are very hesitant, as they are likely being influenced by fake news that circulates in the region. Some are even afraid they would die due to side effects of the Sinopharm vaccine, or get a chip injected, that will cause them harm later on. To fight the many misconceptions, a campaign was launched during the last weeks of August. Together with a doctor who provided medical information and backed up with some videos of Belgian team members who shared their own vaccination experiences, the Peruvian team was able to convince a significant number of knitters. The vaccination campaign turned out to be a success. Luckily, the infection rate among the Manta team and knitters has been minimal, and there were no severe corona cases. This is probably due to the safety measures that have been implemented and maintained in the workshop, such as the use of (double) masks, social distancing and daily temperature checks.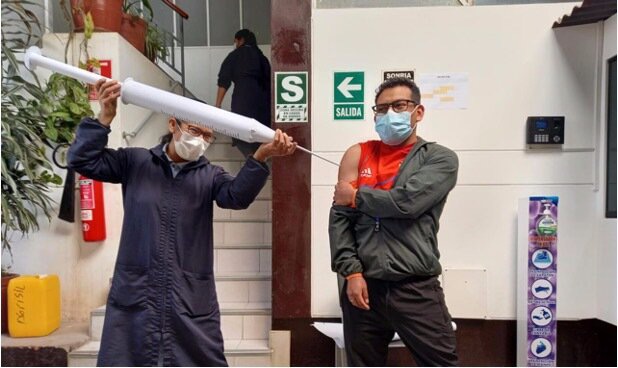 In Ranchi, India, all artisans above 40 years have already received their first vaccine of the Indian producer Covishield and will get their second dose on 23 October. Because of the rapid vaccine production rate in India at the moment, it is likely that all artisans will be vaccinated in the upcoming months. Currently, more than 600 million Indians have received their first dose and about 10% of the population is fully vaccinated. Having come out of a difficult lockdown in July 2021, the future suddenly looks a lot brighter.