TALES BY SOLID
KANTHA JACKETS
The versatile Tales by Solid kantha jacket will be a staple piece in your wardrobe. Made from recycled cotton sarees, we love to combine and create unique stand-out looks.
The kantha jacket comes with a flattering belt to style your look and is made of mixed cotton sari pieces with beautiful print combinations handstitched with organic cotton.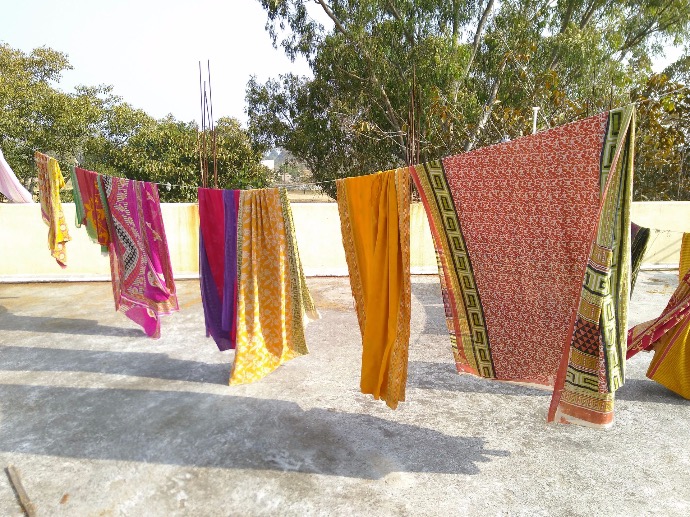 CIRCULAR FASHION
Your handmade Indian kantha jacket is made entirely of sustainable, environmentally friendly and cruelty-free materials.
Recycled sari: Indian women have been using their sewing and weaving skills for years to repurpose traditional sari fabric. Worn and discarded saris have a second life. They are carefully washed and reused. Recycling and upcycling : the alternative for those who care about the planet and our environment.

UNIQUE PIECES
Given that the saris have been previously owned by women in India, the product may have small imperfections, marks or loose threads. Each product is handmade, 100% authentic, and holds a story from its previous owner. Each kantha jacket has a unique design, meaning no two are the same in the world. Thanks to the artisans' creative designs, they make it possible to give worn and unwanted sarees to be turned into something new and beautiful. T he jacket can be worn all year around. In the summer you can wear the jacket open or as a wrap-around, over a simple top or a dress. In winter you can team it with jeans and a jumper for a beautifully chic look. The jacket can also be turned inside-out and worn with two different prints.


100% traceable via a qr code for the proud owner.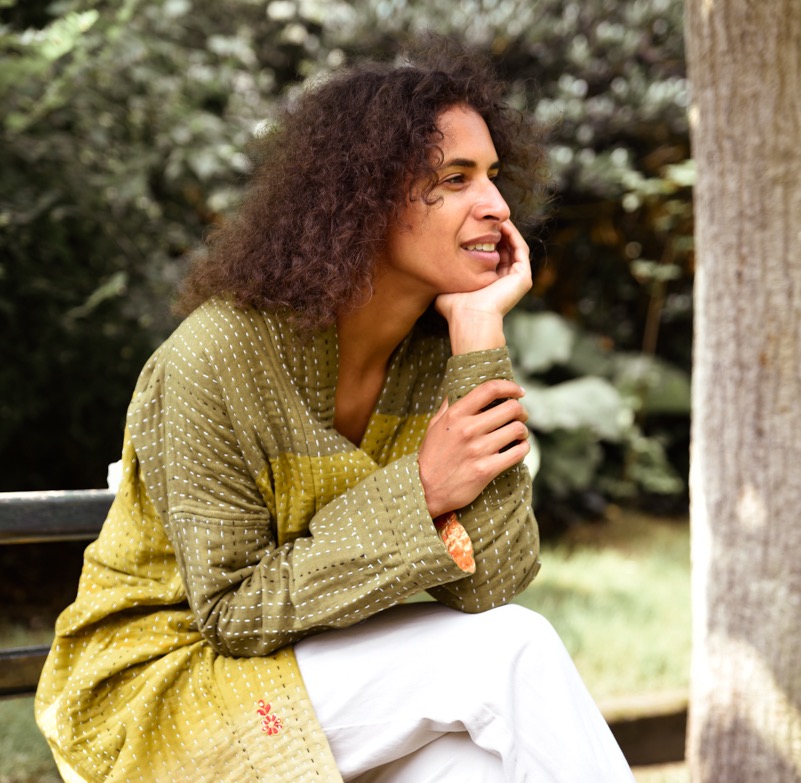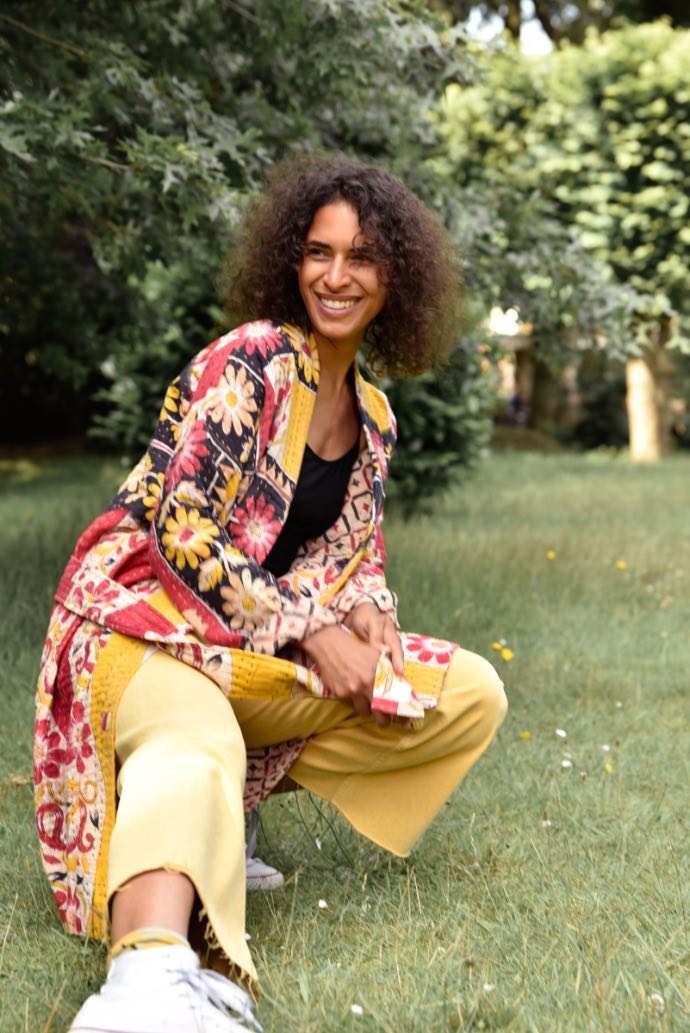 SIZES
Unisize, but comes in 4 lengths
short : 58 cm
mid : 69 cm
long : 97 cm extra long : 130 cm
Fit: oversized

Sleeves: long, 45 cm
Reversible:
The jacket can be worn inside out thanks to the double-folded, topstitched seams.
The labels are hidden.
Complementary waist belt
Who made my kantha jacket?
At Solid, we are committed to building a strong, fair and sustainable fashion and homeware industry, with a production in Peru, India and Kenia that values and upholds artisans, their craftsmanship and their communities. With products that are high on quality and only use the best natural fibres Solid is committed to the development of Solid's artisan workshops promoting fair trade good practices.

How to care for your kantha jacket?
Use a washing net to avoid stitches get caught in other garments zippers etc.
Spot cleaning is preferred over washing

Air drying on a coat rack is preferred over dryer.


Cut loose threads with scissors, do not pull.
Wash separately, and preferably in a washing net on delicate or wool programme at maximum 30ºC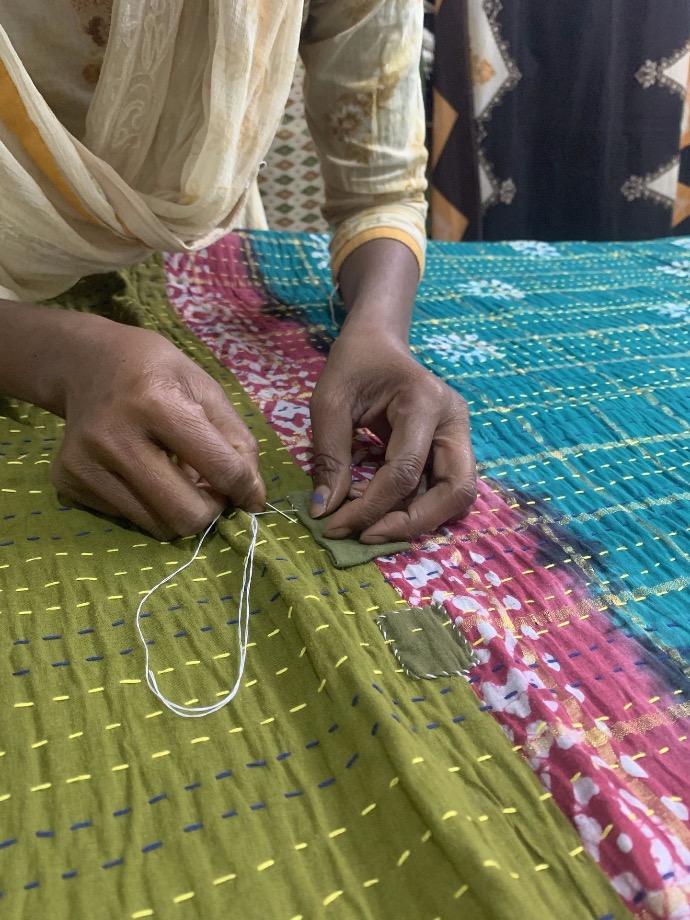 REPAIR, REUSE, RECYCLE

In the mid, long and x-long jackets you will find an extra piece of fabric in the pocket! In the short jackets, you will find these extra pieces carefully sewn into the jacket (easy to remove). We like to give these extra pieces as a 'repair kit', so that the customer can sew up any holes if necessary. Sustainability and slow fashion at its best.We're always happy to help if you have any questions. Have fun wearing your gorgeous jacket.
Shop the kantha jackets directly (use wholesale login when applied to you) or get in touch for more info .
Other 'Tales by Solid' collections